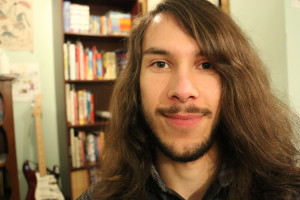 I'm Micah Buzan, a self-taught animator and musician.
I learned animation by making music videos for my songs in 2009. 
In 2013, I animated a music video for The Flaming Lips and have worked on other band's videos since then. I post animation, music, and vlogs talking about the creative process on Youtube.
Experimentation plays a big role in my animation. I'm influenced by a wide range of animation styles – from anime films like Spirited Way and Akira, to Walt Disney's Steamboat Willie and Fantasia.
I think it's easiest to work when specific expectations aren't being forced. I love the philosophy of Wabi Sabi: nothing is perfect, nothing is finished, nothing lasts.  As someone who has an obsessive personality, this mindset helps offset my perfectionism.
If you'd like to support my work, certain things I've made are compiled in the shop.
Thanks a lot for stopping by!
– Micah Buzan